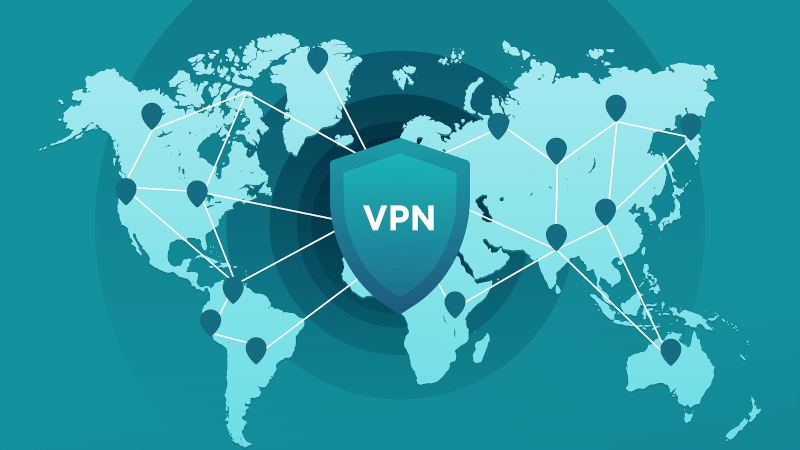 The Truth About VPNs and Some Top Picks For VPN Services
You may have heard people say that you need to get a VPN. Maybe it even has you paying attention to VPN ads now. I'll admit that I pay for one and, while there is merit to the idea that you should use a VPN, it isn't the silver bullet you may have been lead to believe.
Let's take a good look at VPN services. I will briefly cover how a VPN works, when they are useful, and suggest a few choices of privacy-focused VPN providers.
What Does a VPN Do?
VPN services connect your computer to a VPN server before connecting you to the internet. That's it! Normally your traffic leaves your computer, goes to your router and/or modem, then makes its way through your internet service provider's (or ISP's) network from which it makes the connection to your destination site. This is an extremely oversimplified explanation, but it will suffice for our purposes here.
When you connect to a VPN service, things happen a bit differently. Your traffic still has to go through your ISP's network. The difference is that it leaves there and goes to your VPN server before connecting to your destination. The VPN server figures out how to connect to your destination for you and sends the traffic back to you. Your ISP connection is still between you and the VPN server, but the VPN service makes it unaware of your destination. A VPN connection also encrypts your IP address and traffic, making you hidden to your ISP and third-parties.
Common Misconceptions About VPNs
There are some very common misconceptions about VPN services that need addressing. First, it does not make you that much more secure in most cases. Internet traffic is mostly encrypted already. You probably never noticed that web addresses went from starting with "HTTP" to starting with "HTTPS" because browsers hide that these days. The "S" stands for "secure", and it means that it encrypts your traffic. You might notice that occasionally your browser tells you a site isn't secure? That usually means it isn't yet using HTTPS. While a VPN connection establishes an encrypted tunnel between you and your destination, this isn't too much different from encrypted HTTPS traffic that is now the standard. If you are connecting to a website that hasn't added SSL encryption yet (starts with "HTTP"), then your VPN is improving your security for sure! Also, while browsing with a VPN, you are still at just as much risk of getting viruses, spyware, etc on your machine or being phished.
Another misconception is that they make you completely anonymous. We've handed over so much info to companies that servers across the globe are filled with our data already. Also, our browsers are carrying around cookies that identify us to certain websites and can be sniffed out.
There is also the issue of log files. If your VPN provider keeps usage log files, then all of your traffic is logged on a server somewhere and can be viewed or leaked (note that connection logs are not the same thing and don't reveal your traffic or activities). Many countries require communication companies, including VPN providers, to keep log files for a certain period. Countries like Netherlands, Luxembourg, Romania, and Sweden are popular for VPN companies because they don't have the requirement to keep log files.
So Why Get a VPN Service?
Edward Snowden said not to use a VPN, but to use Tor instead. While this is good advice, a VPN service is still an excellent tool to have. You have to take a multi-layered approach to your security and privacy, and a VPN service is a good layer to have. Using Tor slows down your experience more and is maybe a little more difficult to use. If you need absolute anonymity and the highest level of privacy, using Tor is a better choice, but I don't feel like most of us need to take that level of precaution most of the time. Also, most of us want a fast, easy solution and a VPN will provide that. Tor is a better option while on a PC if you aren't extremely concerned about speed.
First and foremost, I NEVER connect to any public networks without using my VPN. This includes when I connect my phone to public Wi-Fi. If Wi-Fi isn't password-protected, then your traffic can easily be intercepted and sniffed, leading to your info being "hacked". If a public network has a password but you don't use a VPN, the company providing the Wi-Fi could be collecting your data. Regardless, you should connect no device to public Wi-Fi without a VPN for protection.
Now I will not condemn or condone this next action as I tend to take a very "you do you and I'll do me" approach to most things in life! Let's say you are one of those folks who torrent a lot of movies. This could apply to other online actions, but I know torrenting is likely the most common use case here. Internet service providers like catch people torrenting. Punishments can include anything from slightly throttled service, temporary suspension, and even legal action. If you use a VPN, your ISP will not have a clue that you are torrenting (or whatever you are doing). A VPN service keeps you safe from your ISP trying to police any of your activities!
Speaking of ISPs, if don't want your ISP spying on you and selling your data to other companies, a VPN provides you with that luxury as well. We've already covered this, but all your ISP will know is that you are connected to a VPN. What you do after that will remain a mystery to them!
Last, do you live in the US but want to watch something exclusive to England? Use a VPN to connect to a server in England and you can watch your show! Since most companies have VPN servers all over the planet and they mask you IP address, you can use a VPN to circumvent any geographical restrictions on services!
Ok, So Which VPN Services Should I Look Into?
Ok, we've established that while they aren't silver bullets of extreme protection and anonymity, VPN services are still useful, provide some privacy, and are worth the few bucks a month we pay for them. Let's look at some decent choices for VPN service.
Below are just some services I would recommend looking into. These services are good picks for privacy and do not log usage data.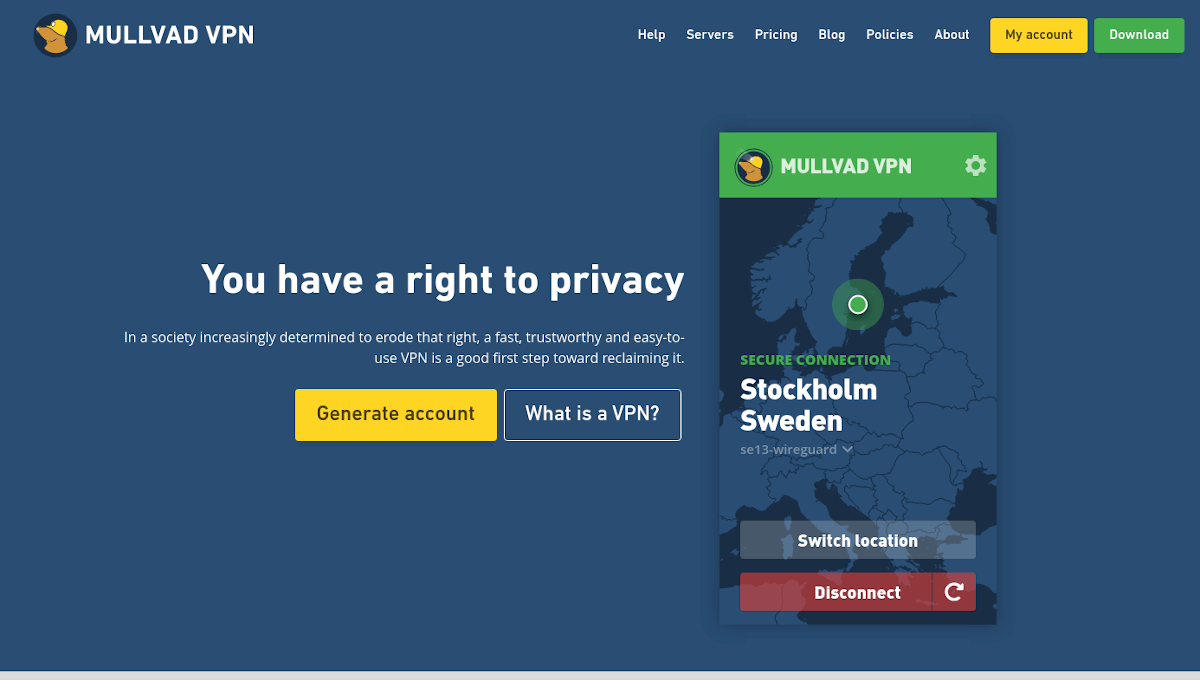 Mullvad
I don't personally know much about Mullvad VPN except what I've read about them, but they come highly recommended and it is easy to see why. This is probably about the best service you could hope for as far as privacy is concerned.
Pros
based in Sweden so they don't have to keep usage logs
supports IPv6
supports torrenting
unblocks YouTube content
can be used on up to 5 devices
accepts Bitcoin
client software is open-source
support for WireGuard protocol
allows remote port forwarding
Cons
no free trial
not good for use to unblock popular streaming services
only has servers in 35 countries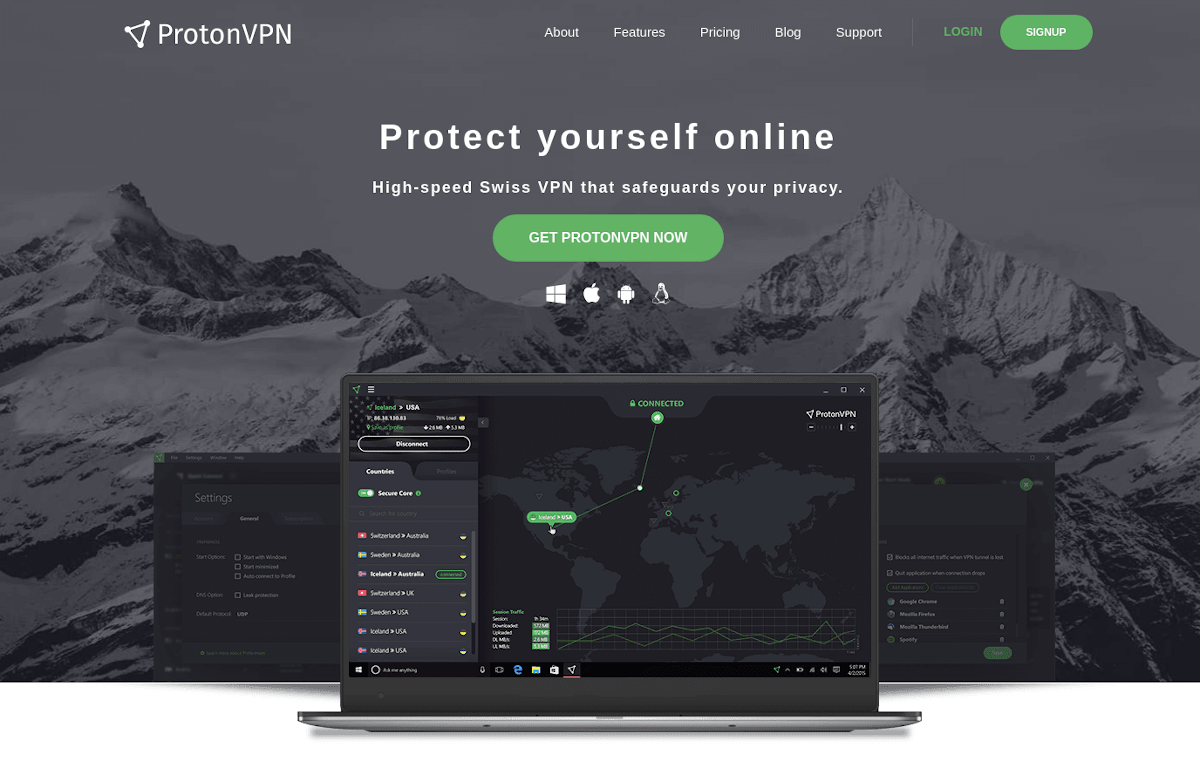 Proton VPN
While I have no experience with Proton VPN yet (that will likely change soon), I do use ProtonMail and have nothing but good to say about it. Proton VPN is recommended by many. On paper, this seems like a good all-around option for the privacy-minded individual that also wants to stream content from different countries on popular streaming services.
Pros
accepts Bitcoin
client software is open-source
Independently audited by the SEC Consult and immediately addressed the low risk to medium vulnerabilities found in their clients
mobile clients for iOS and Android (and Android client can be downloaded using F-Droid)
Servers in 44 countries
Will unblock region restrictions for Netflix and BBC iPlayer
Cons
no remote port-forwarding which will impact some P2P applications like torrent clients.
performance not great in some regions and long-distance connections can become quite slow
priced a little higher than some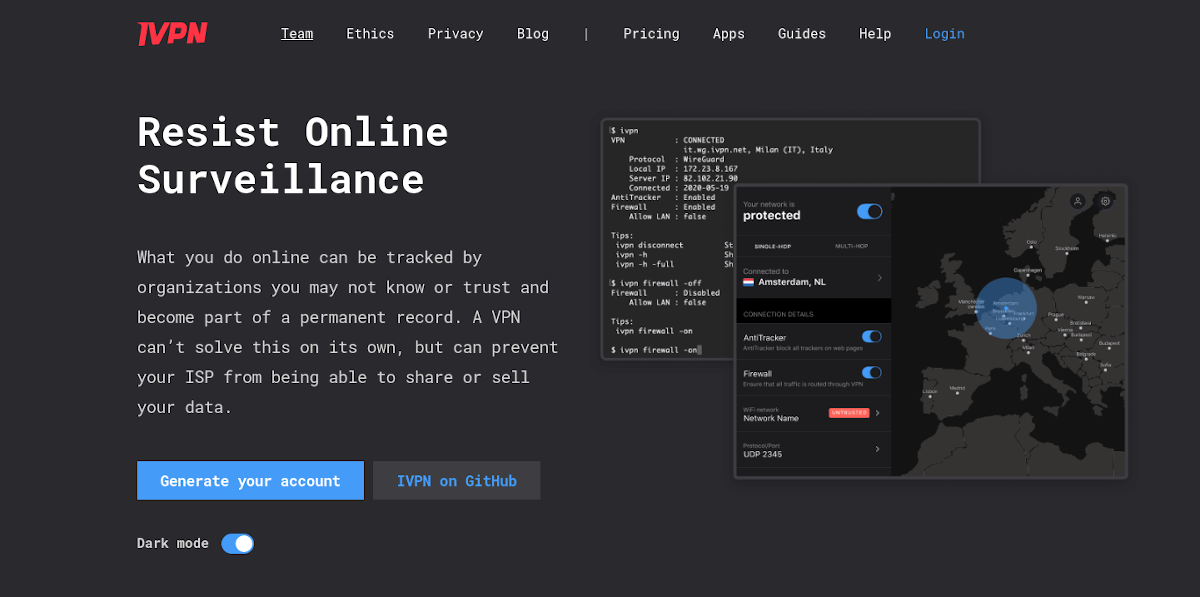 IVPN
IVPN is a premium VPN company founded in 2009 and based in Gibraltar. They have a lot of fantastic features, a great price, and are yet another great option worth checking out. There's no single stand-out feature here to make me say "this is best for ____", they just have a great overall offering.
Pros
servers in 32 countries
independently audited which proved their no-logging claims
remote port-forwarding
open source clients
WireGuard support
accepts Bitcoin
has "AntiTracker" technology that blocks ads at the network level
Cons
doesn't unblock Netflix, BBC iPlayer, Disney+
may not work in China
long-distance connections become very slow
only supports split tunneling in its Android client
some features might be difficult for tech noobs
Whether or Not To Get a VPN is Your Decision to Make
Like I've pointed out, VPN services are NOT the silver bullet for privacy that so many people like to claim. They are, however, a layer of privacy that is nice to have and they have other uses as well. I do highly recommend having a VPN service, especially on your mobile device if you ever connect to public Wi-Fi. That said, there are many critics of VPN services that would disagree with me. In the end, I hope I've provided you with the info you need to decide for yourself!
UPDATE: I updated this recently to remove my suggestion for Private Internet Access. I had them for years before there were so many competitors and they were fine. I grew concerned that they were based in the US and owned by a shady company so I decided to switch to Proton VPN. I found out that Private Internet Access does not have a true cancellation option available without contacting customer service. You only get the option to stop your auto-renewal, not to cancel your account. That's pretty anti-consumer. Then, when I messaged them to cancel, they actually charged me for another month even though I was 2 days out from my next auto-renewal (if I hadn't just stopped that). I had to contact customer service again and threaten to report them to the BBB. Now they are saying I'll get my money back in 5 to 10 days. I can no longer recommend Private Internet Access.