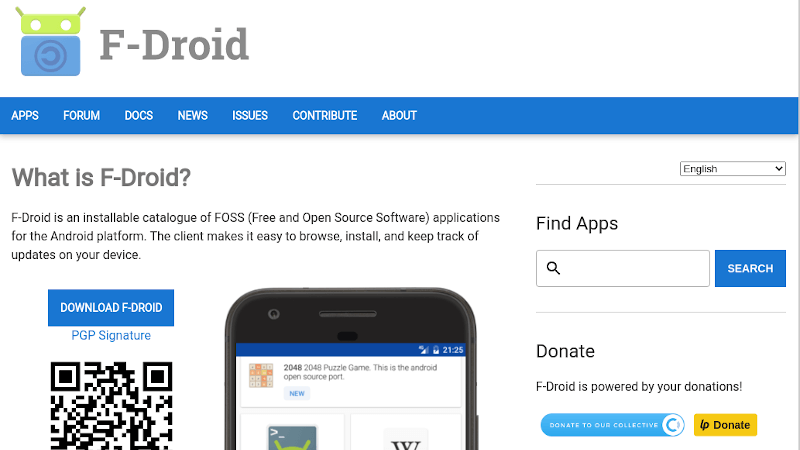 An Overview of F-Droid and Some of the Best Apps It Has to Offer
As I've mentioned before, your phone is the portal used by Google, Apple, and others to do the bulk of spying and profiling of you these days. You unknowingly permit some apps to listen to your conversations while others track your location and shopping habits. I've even reported on how your location data is used to determine whether you are socially distancing.
If you use an iPhone, I'm sorry, but this post is of no use for you. Apple's devices are so locked down that there is no way to really make an iPhone into a privacy friendly device. Plus, I've never liked Apple so I've never had an iPhone therefore I can't honestly give you tips and tricks about them!
If you use an Android, well, you're in luck! One of the best things you can do on an Android device is to download F-Droid and look for apps from there. Whether you are using a newly de-Googled phone and have F-Droid as your primary app store, or you simply want to install some apps that provide you with the experiences and tools you are used to but don't want your apps reporting your every move to the company that made the app, F-Droid is a good place to start!
F-Droid is an open-source app store you have to side-load onto your phone. I've talked in more detail about F-Droid here if you want a refresher. The key thing to know is that the apps on F-Droid are open-source, can run without Google Play Services, and are flagged by F-Droid if they have ANY features that might be less than desirable.
I use F-Droid as my main app store and have for a while. That being said, I know that adjusting to using a new app store can prove daunting, as you don't know what the best apps are. This is especially true with F-Droid is there is no rating or review system. Today I thought I'd go over some of F-Droid's features and some of my favorite apps to hopefully make the transition to F-Droid easier for some.
Installing F-Droid
First things first, you need to install F-Droid. For those of you that have never installed an app from a source other than the Play Store, it is just a little different. Here's what you need to know:
First, you need to download the APK from the F-Droid website: https://f-droid.org/. Note that an APK file is the file extension used for Android apps and that you will probably get a message from your browser stating that this kind of file can harm your device. You can ignore this warning if you trust the source which in this instance is the official F-Droid website. If you see this warning from a site you don't trust, don't download the APK as it could be malware!

Once the download is complete, you need to install F-Droid using the APK file. You should now have a notification letting you know that your download is complete. From here, there are several paths you can take to start the installation and they can vary depending on your version of Android, manufacturer skin, etc. Most Android devices would simply allow you to click on the notification to start the install. You can also use a file manager to navigate to the APK file (most likely in your "Downloads" directory) and start the installation from there.

Once you start the installation, you will most likely see a warning that you are installing an application from an unknown source. That is expected and is a built-in safety feature of Android. Again, if you trust the source of the downloaded file, then you can proceed. Here, the official F-Droid website is a source we know we can trust. Here we have another scenario where your experience may differ depending on a list of variables. The gist of what you need to do here is to enable the app to be installed from this unknown source. Android wants to make sure you are ok with installing F-Droid and, in some versions, wants to make sure you want to allow the installation of files from the app in which you initiated the installation.
That's all there is to installing F-Droid. I feel like I should reiterate that you should always exercise caution with installing files you download from the internet. I rarely recommend doing this unless you fully trust the source from which the file is made available. I fully trust F-Droid or I would not be telling you to trust it as well! Also, if you are still having trouble figuring out how to install F-Droid, here is a great guide: https://www.digitaltrends.com/mobile/how-to-sideload-an-apk/;
Dig into Some of F-Droid's Features Right Away!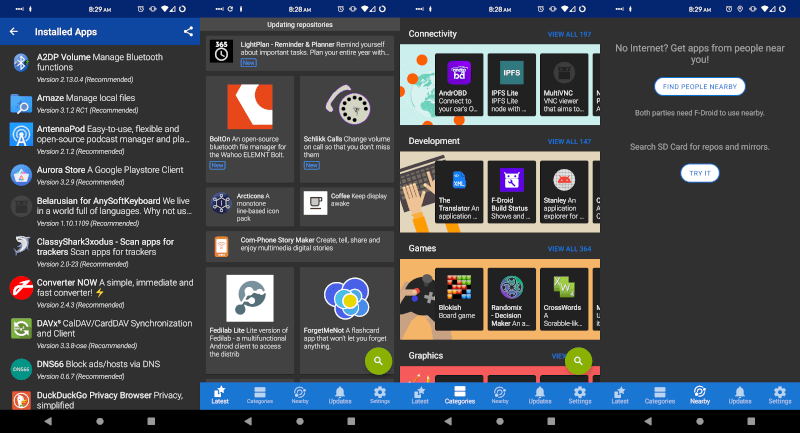 While most of you will have no trouble quickly learning how to use F-Droid as it has a simple interface and layout. Some features aren't as obvious but are incredibly useful, so let's take a quick look at some of those! First, F-Droid allows you to add additional software repositories to have more software options available. As you can see from my screenshot, I have also enabled the Guardian Project Official Releases and the microG F-Droid repo. Enabling these 2 allows me to seamlessly integrate apps from each of these sources into the store. If you want some more great privacy-focused apps to show up in F-Droid on your device, I recommend the Guardian Project repo! The microG repo I have shown is only because I have microG installed (an open-source app that pretends to be Google Play Services so apps that depend on those services can run). You can add additional repos as well, although I would again warn you to exercise caution.
Additionally, F-Droid will let you know if an app has what it calls "Anti-Features". If the app is for a paid VPN service, has you put in an API key to use a weather API, or any does anything else that might have you using something that is not free or is proprietary, then it will give you this warning. The warning isn't saying "hey, don't install this". It's more like "hey, know that this free and open-source software might have you use something that isn't free or open source". The privacy "hardcores" will completely avoid apps with these warnings. I don't, but I pay attention and ask myself why the warning might be on an app before I download it. For example, if I am getting a weather app, I assume it will have me put my API key in to receive weather from a commercial source and that is something I'm OK with. If it were to show me that warning before I downloaded a photo gallery app, I would ask myself why that is there and probably avoid the app in favor of a simpler gallery app without the warning. In short, I recommend using this "Anti-Features" warning to make you consider why the app in question would have that and if it is justifiable.
Some of the Best Apps on F-Droid
Here are some of my picks for the best apps you can get on F-Droid.
Calendar
Etar This is a great, open-source calendar with multiple views that can sync with many different sources.
EteSync EteSync isn't a calendar, but it is a paid service that allows you to sync your calendar, contacts, and more across devices. I pay for EteSync as it backs up my contacts and calendar so I don't lose them if I lose or destroy my phone.
DAVx5 Like EteSync, DAVx5 is for syncing calendars but is free and good for syncing your Google calendar without the use of Google Play Services on your device.
Suntimes Calendars - This app requires you to have Suntimes installed as well. The idea is that it provides you a calendar with solstices, equinoxes, sunrise times, twilight times, etc and places these events into your calendar.
Communications
FairEmail This is an extremely well put together email app with a paid option that is updated just about every day. I paid for this to support the dev as it is a pretty great app!
Element Previously known as Riot.im and recently removed from the Google Play store, Element is an encrypted messaging app much like Signal. It also allows for voice and video chat, runs on the Matrix network making it a bit more secure, and integrates with many other apps.
QKSMS QKSMS is an app for sending and receiving text messages. There are many apps out there for this, but QKSMS is my pick for the best looking and functioning free and open-source SMS out there!
K-9 Mail K-9 Mail is another great, full-featured email client. I used K-9 Mail back in the earlier days of Android before I cared as much about open-source software because it was a solid, feature-rich email client. It looks a bit dated now, but it still works amazingly well!
Networking / Security
Orbot AVAILABLE FROM THE GUARDIAN PROJECT REPO - Orbot creates a proxy connection to the Tor network allowing traffic from other apps to be routed through it. This is one hell of a thick layer to add to your tinfoil hat!
ClassyShark3xodus This app tells you which trackers are being used in your apps. I've fiddled with it a bit and it really opens your eyes to just how bad the tracking has become. I actually removed a couple of apps and looked for better alternatives after opening this app!
DNS66 DNS66 allows you to block hostnames via DNS. This can be used for ad-blocking or even blocking certain trackers. You can configure your whitelists and blacklists as well as custom DNS servers.
NetGuard NetGuard allows you to block internet traffic on a per-app basis. Let's say you have a game or something that you just HAVE to have but you know it is tracking you and it doesn't connect to the internet for the features you use. NetGuard can make it so that you can keep the app but block its access to the web!
Tor Browser AVAILABLE FROM THE GUARDIAN PROJECT REPO - This is the Tor browser experience on your Android device. There is no better way to browser the web privately!
LibreSpeed A simple network speed test.
Music / Podcasts
Timber Local music players are used a lot less now that most folks use a music streaming service. Still, if you have some tunes you can't find on streaming services or you simply wear a thicker tinfoil hat and refuse to use a streaming service, Timber can be your beautifully designed local music player!
AntennaPod Need podcasts in your life? AntennaPod is pretty much the best podcast app you could ask for!
Productivity
Turtl I've always depended heavily on note apps. Whether I need to make a shopping list, jot down some notes about a software development project I'm working on, or just record something to an app that I know I won't remember, I've been a heavy user of notes apps for many years. I used EverNote and OneNote before I cared so much about privacy, but I can honestly say that switching to Turtl was a no-compromise move. I have Turtl installed on all my devices so I can have my notes everywhere (Linux, Mac, Windows, and Android).
Tasks.org The name pretty much gives away what this app does! Tasks.org is my favorite task tracker. It syncs with Google, EteSync, and CalDAV and is all you could ever want from a task tracking app.
Weather
Forecastie Forecastie is a simple, material designed forecast app with a good widget that retrieves weather data from OpenWeatherMap.
RadarWeather RadarWeather is another great weather app using OpenWeatherMap. It is my main weather app because it allows me to track weather for multiple locations and has an animated radar view. I use Forecastie for the widget and RadarWeather for all of my other weather needs.
Weather If you want a better-looking option for a weather app, the simply titled "Weather" might be for you. Like the 2 above, it also pulls data from OpenWeatherMap, but the style of the presentation seems to be the focus is this is a good-looking app!
Misc
Amaze Amaze is a great file manager app.
Imagepipe Imagepipe strips EXIF data and resizes images to make them better for sharing online.
Aurora Store Aurora Store allows you to download the same app files as the Google Play Store but without the need of logging in to Google or having Play Services installed. If you have to have a proprietary app, this is a great way to get it while avoiding Play Services.
NewPipe NewPipe is a lightweight YouTube frontend that does not need Play Services.
OsmAnd~ If you have a de-Googled phone but you still want to have turn-by-turn navigation, OsmAnd~ is what you are looking for!
VLC VLC is a video file player that can handle an absurd amount of different formats and codecs!
AnySoftKeyboard Amazing, full-featured keyboard that has gestures support, several language packs, themes, and so much more!
A2DP Volume This app allows you to create different volume profiles that activate when you connect to your different devices.
F-Droid, FTW!
I listed a small handful of the great features of F-Droid and gave some of my top picks for apps that you can get from the app/store. Honestly, I've barely scratched the surface as there are tons of other great open-source applications you can find using F-Droid. Don't take my word for it though! Download F-Droid and check out the world of open-source Android apps. Also, don't forget to support these independent developers if you enjoy their work!